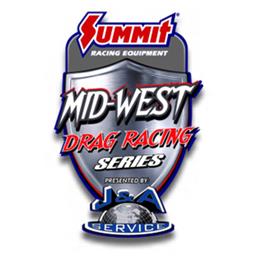 2/23/2023
Midwest Drag Racing Series
---
FloRacing and Mid-West Drag Racing Series Announce Streaming Partnership for 2023
TULSA, OKLAHOMA - (February 23, 2023) The Summit Racing Equipment Mid-West Drag Racing Series Presented by J&A Service would like to announce a dynamic partnership with FloRacing for the 2023 season. With this collaboration, all eight of the MWDRS tour stops will be broadcast in their entirety on FloRacing providing our fans with unprecedented access to the series racers and sponsors.
"We've worked extremely hard with FloRacing to create an amazing partnership that will allow us to showcase the series like never before. We'll be doing things that no other series has done", states series Founder Keith Haney. "I'm so excited to present what we have worked so hard to achieve the last few months.
About half-way through the 2022 season, MavTV partnered with FloRacing to show the MWDRS events live streaming. As the dynamics changed within MavTV, we developed a relationship with FloRacing and the talks progressed to this partnership.
Beginning with our season-opener at Xtreme Raceway Park in Ferris, Texas, FloRacing will stream our events live for the entire show.
Along with the incredible partnership, MWDRS has added all new cameras as well as equipment that will allow us to do roaming interviews as well as between round pit interviews. Should we experience a short down time for prep or clean-up, we have the ability to go live to our Pit Reporters to show more action."
"Even when the action on the track is down for a short time, we will have complete access to the work and excitement in the pits. Whether its engine changes or fixing the car for the next pass or even getting to know our racers, we will have you covered", states Event Director Ellen Eschenbacher.
Luke Clevenger and Chad Reynolds in the booth will be able to take the microphone to the starting line or staging for chats also. Daniel Green, who started with us last Fall, will be wherever the action is to get those candid moments.
Additionally, we have integrated our exclusive timing app, MWDRSlips, into the live action on your screen. No longer will the diehard fans have to toggle between the live feed and live timing, we've done that for you!
This partnership also opens up a huge opportunity for our marketing partners and will allow us to provide unprecedented access to our marketing partners to showcase their products and services.
"The partnership provides an opportunity for reciprocal benefits with the sponsor. The marketing partners are tremendously valuable to the organization, some of whom have been associated with the organization for the entire seven-year duration. The collaboration enables the organization to attract new sponsors and offer them the necessary ROI to expand their business," states Haney. "All parties involved stand to gain, and the outcome is beyond belief."
Racers and fans alike will be given a unique code to subscribe to the feed that allows us to showcase the partnership with FloRacing and MWDRS as it brings people to FloRacing. Details on the code will be forthcoming on our website and social media platforms.
ABOUT MWDRS
The Summit Racing Equipment Mid-West Drag Racing Series Presented by J&A Service is an all-eighth-mile drag racing organization with headquarters in Tulsa, Oklahoma. The series is headlined by Pro Modified and Top Alcohol Funny Car, with additional classes including Top Sportsman, Top Dragster, and two Junior Dragster categories. The MWDRS will showcase 8 events throughout the 2023 racing season, beginning March 17-18 at Xtreme Raceway Park in Ferris, Texas. The MWDRS then returns to the Throwdown in Tulsa May 12-13, followed by a much-loved venue, SRCA Dragstrip in Great Bend, Kansas June 2-3. Returning to World Wide Technology Raceway in St. Louis June 30-July 1 caps off the first half of the season. Following a summer break, the series returns to St. Louis August 18-19, followed by the huge Funny Car Nationals at US 131 Motorsports Park in Martin, Michigan September 8-9. The season points-battle heats up with the final two events of the season, Throwdown in Tulsa October 6-7, with the season finale at Xtreme Raceway Park in Ferris, Texas October 20-21. All races will be streamed live allowing for maximum exposure for our MWDR series racers as well as our valuable marketing partners.
http://www.midwestdragracingseries.com
ABOUT FLOSPORTS:
Founded in 2006, FloSports is a subscription video streaming service dedicated to sports, offering live and on-demand access to hundreds of thousands of competition events across 25+ vertical sport categories in the US and abroad. FloSports' vision is to give underserved sports the love they deserve. With a growing library of more than 300,000 hours of premium content including news, expert commentary, films, documentaries and more, FloSports has established itself as an innovator and leader in sports streaming. Finally, your sport has a home. For more information, please visit: flosports.tv
Subscribe to FloRacing: https://flosports.link/3y4RUgd
Watch all 2023 MWDRS Races: https://flosports.link/41lIYAs
Media Contact:
Ellen Eschenbacher – Event Marketing Director
ellen@midwestpromodseries.com – (317) 719-9672
Back to News