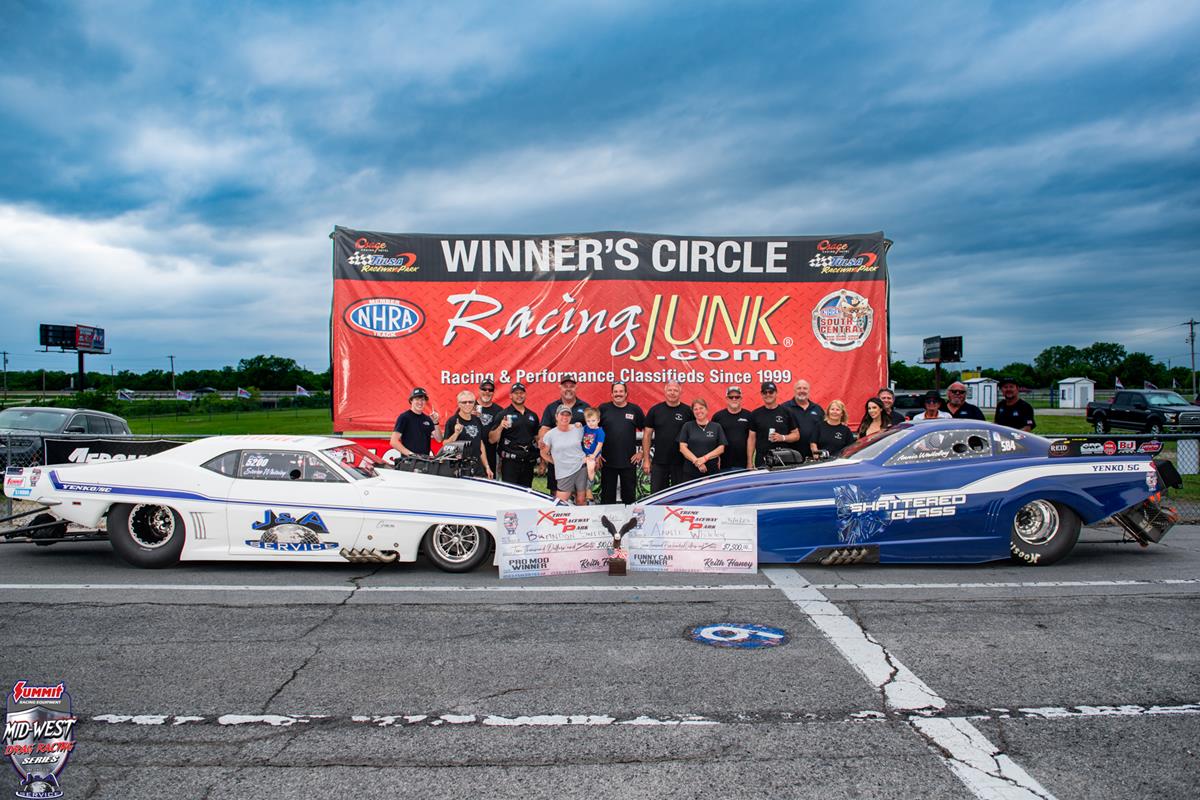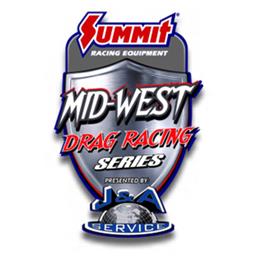 5/24/2023
Midwest Drag Racing Series
---
Mid-West Drag Racing Series kicks off the 2023 Season in Tulsa
(May 24, 2023) Tulsa, Oklahoma – The Summit Racing Equipment Mid-West Drag Racing Series started off with some beautiful days at the track despite a rainy forecast.
"It had been a long break, but everyone was fired up to get back to the action", as stated by series founder, Keith Haney. "The long break for the series always makes us more eager. As driver's, we only want so much time away from the track!"
In the J&A Service Funny Car showdown, Annie Whiteley took the victory over Mike Doushgounian a first-time MWDRS racer from California.
The Stroud Safety Pro Mod race was intense, with Brandon Snider driving Steven Whiteley's car and defeating none other than series owner Keith Haney himself. Brandon started from the sixteenth qualifying spot but powered through Ron Muenks, Ed Thornton, and Todd Martin in the rounds.
Moving on to the Pro Mod Slammers, Ron Muenks showcased his skills by defeating Chris Juliano in a thrilling race.
In the Icon Forged Pistons Top Dragster category, it was Chanse Bullock who emerged victorious over Cody Moore. Chanse had quite the journey to the finals, overcoming Rich Moline, Bob Henry, and Jimmy Sackuvich.
The Pat Musi Racing Engines Top Sportsman race witnessed an incredible comeback story. Cody Draper, who had been away from the track for two years to support his wife during her health battle, made a triumphant return. Cody defeated Doug Woody in the finals after beating Mark Griffin, Randell Reid, and Rod Moore in the earlier rounds. The team's excitement was filled with many tears and well-wishes from everyone on the starting line!
Let's not forget the Race Star Wheels Pro Junior Dragster showdown. The local hero, Jonathan McClain, took down Alexis Kesterson. Jonathan faced tough competition from defending class champion Tyler Wells, Colt Saum, Kale Moberly, and a competition bye. Impression day!
In the Zimmerman Properties Sportsman Junior Dragster race, it was Camden Teel who came out on top, defeating Turner Houser. Camden had to overcome challenges from Haven Moberly and Jovee Brundidge to secure the victory.
We were thrilled to complete the first two days of racing, especially considering the terrible forecast we had. Event director Ellen Eschenbacher stated "I'm very happy about getting this make-up event in, despite the odds. The Tulsa Raceway Park staff as well as MWDRS Staff worked together so well and made it happen, even finishing by 6pm Thursday".
"I really want to thank my track partner Todd Martin for working with us on this double event. It's not easy for a track to make money on this with it being Wednesday and Thursday, but Todd didn't hesitate, even though he had to leave Friday for his son Gage's awards presentation. Family is everything", states Haney.
After the completion of the first race, we had little time to spare before diving into race two. Friday morning started with our usual testing, followed by qualifying for the second race. We managed to complete two rounds on Friday night, providing fans with plenty of excitement.
However, Mother Nature had other plans. Severe storms hit Tulsa Raceway Park overnight, causing lightning damage and even ripping apart some awnings. Our eighth-mile timing sensor took a hit too. It took countless hours of troubleshooting, assistance from electricians and IT professionals, as well as the dedication of the entire TRP staff to fix the damage by mid-afternoon.
During the downtime, the MWDRS staff got creative to keep the crowd entertained. They organized an impromptu car show in the staging lanes, giving fans the opportunity to sit in Pro Mods, Funny Cars, and Top Sportsman cars. There were also Q&A sessions with racers and fans, exciting giveaways, and engaging interviews. And to top it all off, we invited everyone in the grandstands to take a track walk and learn about the behind-the-scenes aspects of track preparation and surface maintenance. Needless to say, it was a massive hit!
Following a meeting among the racers, a decision was made to gather the racers and a vote was taken, the decision was made to skip the third qualifying session and go right into eliminations. Sadly, just after an abbreviated opening ceremony and seven pairs of Pro Mods, heavy rains came.
A meeting of racers once again was held. Sadly, at this point in the evening, the decision was made to call the event. As a series that does not typically race on Sundays, we definitely weren't going to race on Mother's Day.
All six of the MWDRS classes along with Champion Auto Lifts Pro 4.20 will contest eliminations prior to the fall Throwdown in Tulsa October 5-7, 2023 at Tulsa Raceway Park.
"I wanted to let folks get packed up and get on the road home to their families. I hate this. The forecast looked terrible on Monday but we completed one-and-a-half races. I'm proud of the track staff, the MWDRS staff, and the racers and fans. We stuck together", states Keith Haney
The Summit Racing Equipment Mid-West Drag Racing Series heads across Oklahoma to Thunder Valley Raceway Park in the OKC suburb of Noble June 1-3, 2023 for the exciting "Thunder in the Valley" at a new-to-the-series venue.
All races are streamed live, in their entirety on FloRacing. Please subscribe and check out the coverage at: https://flosports.link/41lIYAs
Back to News